Call Before You Dig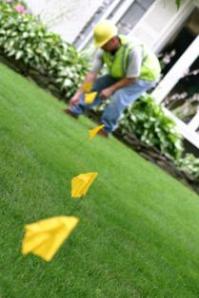 If you plan to dig or perform any type of excavation near the pipeline right of way, be sure to dial 811 at least three business days before you begin.
Dialing 811 will connect you with your state's One Call service, which will help protect you from unintentionally hitting underground utility lines. After you call, a company representative will identify and clearly mark the location of our pipeline at no cost to you if it is in the vicinity of your planned excavation work.
If you should happen to accidentally strike the pipeline, it is important that you contact the pipeline operator immediately. Even seemingly minor damage, such as a dent or chipped pipeline coating, could result in a future leak if not promptly repaired.
Recognizing a Pipeline Leak
Natural gas pipeline leaks are rare, but we want you to know what to do in the unlikely event one should occur.
Natural gas is a colorless, odorless, non-toxic substance. Because you may not be able to detect a natural gas leak by smell, you should be aware of other ways to spot a leak. If you see or hear any of the following signs on or near our pipeline right-of-way, call our Gas Control Center at 800/440-8475. This emergency phone number is listed on all of our pipeline markers.
A hissing sound
Dirt being blown or thrown into the air
Water being blown into the air at a pond, creek or river
Dead grass patches
Fire burning above the ground
Dry spot in a moist field
If you detect any of the above signs:
Leave the vicinity and call Gulfstream or emergency response personnel immediately
Do not try to extinguish a natural gas fire
Do not try to operate pipeline valves
Keeping Pipelines Safe
Interstate natural gas pipelines like Gulfstream undergo a wide range of inspection requirements for design; material specifications; construction standards; and operating, maintenance and testing procedures, including:
At steel rolling mills, where pipe is fabricated, Gulfstream utilizes the most sophisticated, high-strength steel available – steel that, in many cases, exceeds both federal and industry-wide standards.
Protective coatings are applied to the steel pipeline at the pipe mill to control corrosion.
During construction Gulfstream carefully inspects the fabrication of the pipeline, including x-raying welds linking the pipe joints.
Once the pipeline is in the ground and before it is placed into service, it is pressure-tested with water in excess of its operating pressure to test its ability to withstand high pressure. This process is called hydrostatic testing.
Mainline valves are equipped with remote control technology and can be shut off immediately from our centralized Gas Control Center.
After the pipeline is placed into service, pipeline markers are posted at regular intervals to mark its presence. Gulfstream's toll-free, 24-hour telephone number is posted on these markers.
After the pipeline is installed, a electrical system known as "cathodic protection" is utilized to control corrosion.
Regular inspections by motor vehicles and low-flying patrol aircraft keep a watchful eye on the pipeline routes and adjacent areas.
Maintenance crews perform regular facility inspections, monitor for construction activity in the vicinity of the pipeline, and maintain the pipeline and its right-of-way.
The pipeline undergos periodic maintenance inspections, including leak surveys and valve and safety device inspections. An internal computerized inspection device known as a "smart pig" will also be utilized onshore to examine the pipe's condition.
Gulfstream representatives conduct meetings with with local emergency response officials, excavation contractors and local landowners to inform them about pipeline operations.
A centralized Gas Control Center uses computers to continuously monitor the pipeline system 24 hours a day, 365 days a year.